WEB: A Game About Connections
The Sword of Dorb exposes the corrupt nature of the Artificer's Guild. Diego the Bear dreads the sounds eminating from the Land of Metal Beasts. The now lost nation of Ulm owed its power to the idea of Democracy.
What people, places and ideas will you discover and what kind of world will their relationships define?
The Game
WEB is a cooperative worldbuilding game for up to four players. Players will take turns as Weavers, working together to create a dynamic map made up of characters, factions, things, places and ideas. These elements will connect with one another forming a Web: a snapshot of a world brimming with conflicts and alliances.
Web is an open-ended system, capable of creating all kinds of worlds. Every turn, players add new elements to the world based on die rolls and a pair of minimalist story prompt tables. Each play session is guaranteed to create a unique Web that is expansive, packed with discoveries, and makes you appreciate how every little thing is part of a bigger story.
Just look at this fun example!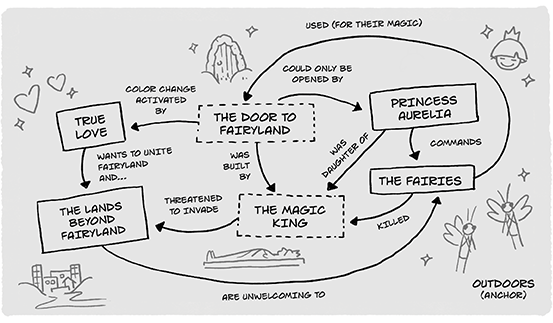 All you need to play are the rules, a six sided die, writing utensils, and something to write on. Download the rules and create your own Web!
The Designers
This game was originally designed for the Portland Indie Game Squad 2022 Tabletop Jam. Game design by Zak Eidsvoog and Ian Rickett, two best friends tragically forced to live in different west coast cities. Art and graphic design by Zak Eidsvoog.
Download
Click download now to get access to the following files: